Guangzhou Metal Recycling Company
---
Guangzhou Metal Recycling Company was founded in 1977 and is the only legitimate scrapped vehicle recycling (dismantling) enterprise in Guangzhou that has been verified and recognized by the state, province, and city. It is the earliest professional company in Guangzhou to engage in the recycling (dismantling) and processing of scrap metal, waste materials, scrapped machinery and equipment, as well as scrapped motor vehicles. It is also a co organizer of the China Resources Comprehensive Utilization magazine and an executive director of the China Materials Recycling Association President unit of Guangzhou Material Recycling Association.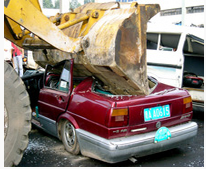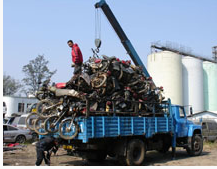 The company is a professional subsidiary of Guangzhou Iron and Steel Enterprise Group, with nearly 200 employees and approximately 150 technical and labor personnel employed; It consists of business units such as the Trade Department, Yuancun Branch, Purchase and Sales Department, and Xiaogang Branch. The current business scope includes the recycling of scrap motor vehicles, scrap equipment and facilities, scrap office supplies, scrap ferrous metals, scrap non-ferrous metals and other waste materials, as well as trade businesses such as pig iron and coke. The company has a production and operation area of over 100000 square meters, and has large-scale transportation equipment such as rescue trucks, truck cranes, transportation lifting trucks, trucks, as well as processing equipment such as shear machines, hydraulic packaging machines, loaders, and cutting tools; We have a team of experienced and high-quality salespeople, as well as a professional technical talent team for dismantling vehicles.
With the strong support of Guangzhou Iron and Steel Group, the company aims to expand social waste metal resources and other waste material recycling, relying on the steel metallurgy, non-ferrous smelting, and other material manufacturing markets, implementing the strategic decision of "expanding and strengthening the main business", actively exploring new businesses, and forming a pattern of one industry as the main industry and multiple businesses developing in parallel. In April 2013, Yuancun Branch purchased one Y81F-200 metal hydraulic packaging machine, one Q43Y-85D shearing machine, one Q91Y-500W gantry shearing machine, and a complete set of environmental protection treatment equipment for automobile disassembly from Hubei Lidi Machine Tool Co., Ltd., actively responding to the strategic decision of "expanding and strengthening the main business".