Strong cooperation, Tianqilidi successfully signed a contract with SGM company
---
On November 8, 2018, at the main venue of the 18th China Renewable Metals International Forum, Li Mingbo, General Manager of Tianqilidi (Hubei) Environmental Protection Technology Group Co., Ltd. (hereinafter referred to as "Tianqilidi"), and SGMMagnetics CEO PaloSfondrini jointly established a Sino foreign joint venture, reached a consensus and successfully signed a contract. According to the agreement, both parties will jointly carry out research and development, design, sales, and services in the field of renewable resource recovery and sorting equipment, especially in the separation and recycling of non-ferrous metals and other valuable raw materials from scrap and crushed materials.
The predecessor of Tianqi Lidi is Hubei Lidi Machine Tool Co., Ltd. It was founded in 1969 and has been established for nearly 50 years. In 2014, it became a wholly-owned subsidiary of Tianqi Co., Ltd. through strategic adjustment and acquisition, and was added to the public offering. Tianqilidi has always focused on the research and development, manufacturing, sales, and service of environmental protection equipment, covering five major sectors: scrap steel processing, scrap car disassembly, non-ferrous metal processing and sorting, comprehensive utilization of renewable resources, and energy conservation and environmental protection. The main products include scrap steel crushing production line, scrap car dismantling production line, non-ferrous metal intelligent sorting production line, waste household appliance dismantling and sorting production line, and waste plastic crushing and sorting production line. The installed capacity of metal crushers produced by the company has reached 230, with over 110 crushers with a main engine power greater than 3000 horsepower, ranking among the top in the market share.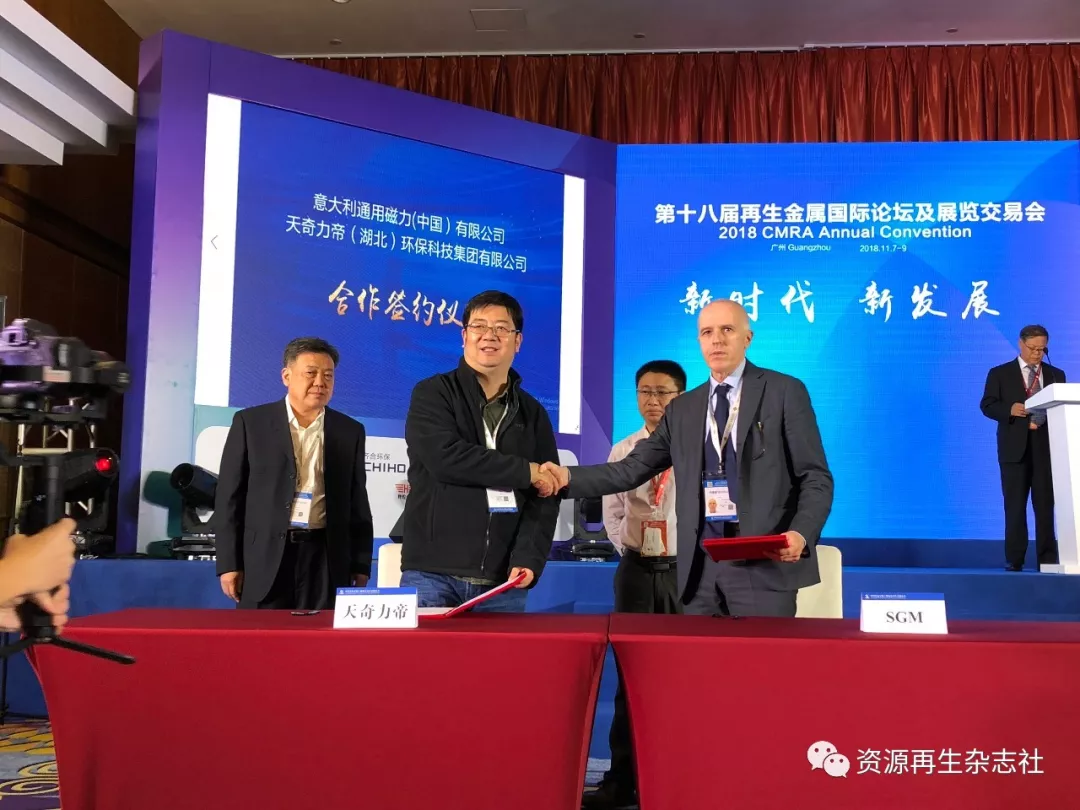 SGM Company was established in 1954, headquartered in Belgium, with a research and development center located in Manerbio (Brescia) in northern Italy. The region is renowned for its competitive steel and metal recycling industries. The core business of the company is to apply lifting magnets to magnetic sorting in the steel industry and metal recycling industry. Currently, over 1000 recycling systems are in operation worldwide. SGM Company not only holds a leading position in the field of industrial lifting magnets, but also has made significant achievements in processes such as induction sorting machines, X-ray sorting machines, color sorting machines, and gravity sorting machines. SGM Company maintains close cooperation with major metal crusher manufacturers worldwide to adapt to the sorting and recycling needs of global resource recycling enterprises with innovative technology.
SGM Company and Tianqili Di are industry leaders in their respective fields. This time, both parties have reached a strategic cooperation and are jointly committed to serving the global renewable resources industry, creating a high standard and high-quality scrap crushing and sorting system and a non-ferrous metal sorting system. This is another successful case of strong cooperation between Chinese enterprises and European enterprises, and also opens a new channel for Chinese manufacturing to go abroad. It is reported that both sides will deepen cooperation in technology, market, management, and services, jointly explore sustainable business models, and achieve mutual benefit and win-win results.