Lidi signs a contract with Tus-Sound Easy Regeneration O2O platform
---
On September 22nd, the signing ceremony for important partners of Tus-Sound Easy Regeneration O2O was held at Tus-Sound headquarters, and all parties in the industry witnessed and opened a new chapter in the development of the Easy Regeneration O2O platform.
Ling Jiang, Director of the Solid Management Center of the Ministry of Environmental Protection, Zhao Kai, Vice President and Secretary General of the China Circular Economy Association, Pan Yonggang, Vice President and Secretary General of the China Renewable Resources Recycling Association, Lu Jian, Secretary of the Weixian County Party Committee in Hebei, and other leaders, as well as the main leaders of key enterprises such as Guangfa Bank, Hongtu Logistics, Wanrong Technology, Huaxin Environmental Protection, Hubei Lidi, as well as Wen Yibo, Chairman of Tus-Sound and Hu Xinling, President Vice President and General Manager of Sound Regeneration, Wei Bin, and other senior executives from Tus-Sound attended the centralized signing ceremony. Zhang Zhonghua, CEO of Tus-Sound, presided over the signing ceremony. The signing attracted many well-known media outlets such as People's Daily, China Environmental News, Huaxia Times, E20 Environmental Platform, and Resource Regeneration magazine to come to the scene for interviews and reports.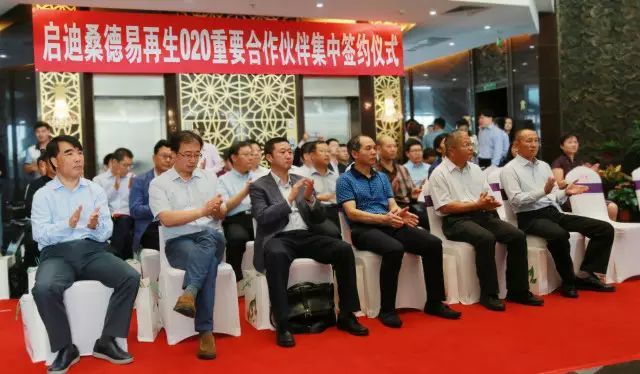 Representatives from all sectors of the industry gathered together to attend the signing ceremony
Just over a month after its launch, the transaction volume of the Easy Regeneration O2O platform has reached nearly 300 million yuan, achieving a good start and laying a solid foundation for faster development in the next step. To this end, we have formulated the 'Easy Regeneration O2O Action Plan with thousands of households and billions of yuan', with the goal of reaching 1000 enterprises in Pingtai by the end of 2017 and a cumulative online transaction volume exceeding 10 billion yuan! "Wen Yibo announced the results in a welcoming speech on behalf of Tus Sound, Expressing confidence.
He introduced in his speech that Tus-Sound currently has 11 qualified electronic waste dismantling enterprises, ranking first in the industry; Scrap cars have also become a key investment direction for Tus-Sound at this stage, and it is expected to become the industry's first in the next two years; Tus-Sound has five major parks in traditional industrial distribution centers in China. Among them, Xiamen Oasis Resource Recycling Industrial Park is a national "urban mineral" demonstration base, and the Hebei Weixian Sound Circular Economy Industrial Park has been listed by the Ministry of Industry and Information Technology as a key construction park for renewable resource recycling and utilization in the Beijing Tianjin Hebei and surrounding areas. In October 2015, Tus-Sound integrated its renewable resource business and established a group platform company, Sound Recycling, focusing on investment and operation of renewable resource projects.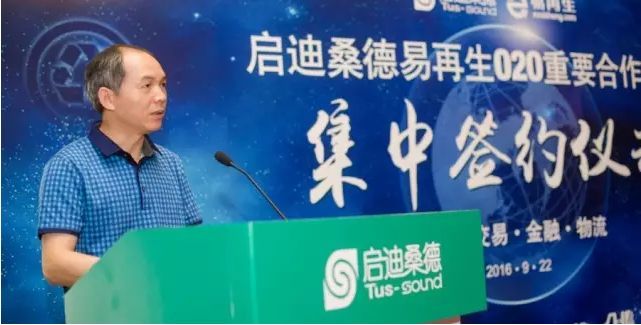 Wen Yibo said that in 2015, "Internet plus" has risen to the national strategy. At the same time, the country has issued relevant policies, emphasizing the role of the Internet as a platform in the reverse logistics recovery system, encouraging Internet enterprises to establish waste online trading systems, actively participating in the construction of waste information platforms in various industrial parks, and gradually forming an industrial, regional, and national online trading system for industrial waste and renewable resources. Easy to regenerate O2O is a breakthrough point Tus Sound found in the field of "Internet plus+renewable resources". With the help of the Internet, based on mobile Internet, Internet of Things, cloud computing and other technologies, it has constructed a new business model of renewable resources. Compared with traditional trading platforms, the breakthrough of Tus-Sound Easy Regeneration O2O lies in its capital advantages of listed companies, resource advantages of offline parks and physical enterprises, and industry-leading brand advantages. Not only can it safely and conveniently achieve online transaction payments, but it can also provide value-added services to systematically address the logistics and financing needs generated during the renewable resource trading process. In the future, EasyRecycle O2O will achieve four core positioning: China Renewable Resources 020 Trading Platform, Supply Chain Financial Service Platform, Online Trading Platform for Scrap Automobile Parts, and Authoritative Publishing Platform for Scrap Home Appliance Price Index. In the future, Tus-Sound will build EasyRecycle O2O into a leading three-dimensional platform in the renewable resources industry that integrates information, trading, finance, and logistics.